JVC 4K UHD 3,000 Lumen Laser DLP Projector - LX-NZ3B
JVC 4K UHD 3,000 Lumen Laser DLP Projector - LX-NZ3W
JVC 4K UHD 3,000 Lumen Laser DLP Projector - LX-NZ3B

---
Literature
The LX-NZ3 is a high-performance 4K UHD/HDR home theater projector with laser light source technology BLU-Escent. Thanks to the BLU-Escent light source, it realizes brightness of 3,000 lumens so there is no need to pull the curtains every time. Plus, there is no need to care about the lamp life as it offers 20,000 hours of long life. Furthermore JVC's original Auto Tone Mapping function automatically adjusts to deliver the optimum HDR image all the time. This projector will enhance your viewing experience to a new level.

4K resolution (3840 x 2160) and HDR (HDR10/HLG) compatible.
With JVC's original "Auto Tone Mapping" function, you can enjoy various HDR10 content with the best image quality without any difficult adjustments.
Compact design for installation convenience: 41 cm by 34 cm, and less than 15 cm high (Approx. 16" by 13-1/2", and 5-3/4" in height)
Compatible with HDMI standards (4K/60P 4:4:4) and HDCP 2.2
4K input specs: Supports 4K/60p, 4:4:4/36bit, 4K/60p 4:2:2/36bit, and 4K/24p 4:4:4/36bit signals - for more vivid colors and subtle gradations
Connectors: PC in, HDMI 1 with HDCP2.2 support, HDMI 2, USB Mini B, Trigger (12 V), USB Mini A (1.5 A power supply), and RS-232
"BLU-Escent" Laser Light Source
3,000 lm brightness and 20,000-hour long life
HDR (high dynamic range) for more realistic, dynamic images
"Auto Tone Mapping" for pristine HDR10 picture quality
0.47-inch DMD for bright high-definition 4k images
Dynamic contrast ratio: Infinity:1
Wide lens shift function: +/-60% vertical, +/-23% horizontal
1.6x high-resolution lens
HDCP2.2 compatibility with HDMI 1 terminal to support video-streaming services and copyright-protected content including UHD BD discs
Available in 2 colors (black and white)
The JVC LX-NZ3 4K UHD Laser HDR DLP Projector features an ultra-bright 3,000 lumen laser light source,and a compact design, making it ideal for a wide range of viewing environments. The latest auto-tone mapping technology insures that 4K HDR content is played back with the best picture quality every time.
3,000 Lumen BLU-Escent laser phosphor light source
2nd Generation .47" TRP DMD technology provides 4K (3840x2160) resolution
Auto Tone Mapping for 4K HDR10 content
HDR10/HLG Auto Select
100% REC 709 Colour Space (BT2020 compatible)
Wide lens shift range (V +/- 60%, H +/- 23%)
Lens: ALL GLASS 1.6X Wide Zoom (1.36:1 - 2.18:1)
∞:1 Contrast with Dynamic Laser Dimming
Five Mode HDR PQ Curves based on latest JVC D-ILA models
18Gbps HDMI/HDCP 2.2 Compatible Input (HDMI-1 only)
Electronic Keystone +/- 30% (Vertical Only)
Control: RS232/12V Screen Trigger Output
Compact Design:13 1/8"L x 15 7/8"W x 5 ¼"H, 13.89 lbs.
2 Year Parts & Labour Warranty
Key Features
BLU-Escent Laser Phosphor Light Source A blue laser and a yellow phosphor panel replace the traditional projector lamp assembly. The benefits include 3,000 lumens brightness, 20,000 hours long life in the highest power laser setting, and laser dimming for infinite contrast. 2nd Generation .47" TRP DMD Device DMD (digital micromirror device) is a digitally controlled micro-opto-electromechanical system (MOEMS) spatial light modulator (SLM). When coupled to an appropriate optical system, the DMD displays a very crisp, high resolution image or video.
HDR10 plus Hybrid Log-Gamma
The LX-NZ3 impresses with Auto Select for HDR10 & HLG and Auto Tone Mapping, using 5 different PQ curves derived from JVC's D-ILA projector line. The projector can display Max CLL/Max FALL information for advanced adjustment.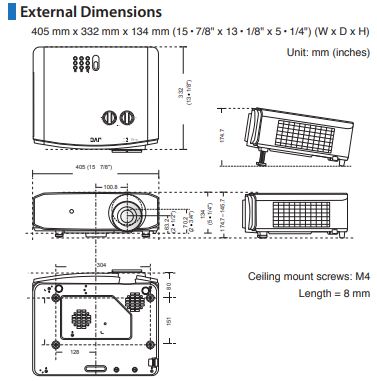 GENERAL
Weight, lbs
13.86
Weight, kg
6.3
Dimensions: W x H x D, inches
15-7/8 x 5-3/4 x 13-1/2
Dimensions: W x H x D, mm
405 x 145.8 x 341
Power requirement
AC110 V-240 V, 50/60 Hz
Picture
RS232C
1 (D-sub 9-pin)
GENERAL
Noise level
29 dB (Eco) / 34 dB (Normal)
Picture
PC
1 (D-sub 15pin)
Contrast Ratio
Infinity:1 (Dynamic contrast ratio)
Brightness
3,000 lm
Lamp life
Approx. 20,000 hours in normal mode
Light source lamp
BLU-Escent (Laser Phosphor)
Lens shift function
+/-60% vertical & +/-23% horizontal, motorized
Resolution
3840 x 2160
Device
0.47" DMD (1920 x 1080)